---
October 9th , 2008
Do you have temporary hearing loss from a live rock concert, loud equipent at your work, or a stray cumshot? If so, what better time to listen to new A.T.F. tracks! This mini album is called Cumming in Socks, and it took less than 2 days to write and record (and it shows!) We're talking about nearly 3 MINUTES of guitars, drums, and other things that make sound! If you like it, let us know! Add it to your myspace playlist, or whatever you darn kids do. If you don't like it, eat a bag of dicks, motherfucker.
Cumming in Socks

01. Bullshit
02. Cuz Yer a Fuckin' Snatch
03. Nancy Huffs Jenkem
04. Cyanide
05. Fake Tan

download torrent here
(your client must support trackerless torrents; uTorrent, BitComet, etc. Azureus won't work)
fuck!,
Uncle Dave
---
March 31st, 2007

The writing process is going great! I have lots of groovin new shit in the works, I am lovin' it! In the meantime RNF continues to inspire with his artwork.
Check out the larger version on the pics page.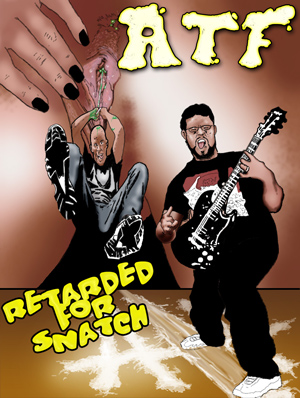 go buy Suffocation's entire discography, NOW,
Uncle Dave

---



March 21st, 2007



Ahh, the updates keep coming. I have taken a little break from writing new songs to do a little house cleaning. It is the first day of Spring and you can smell freshness all over the site! New pics, my own tag board up at the top there (leave us a message!) and tons of new links. Feel free to browse around! If you get bored go check out GodTube.com. I mean really, can't all people enjoy youtube together? Is there not enough space on youtube for Christian comedians AND old Suffocation vids? Oh, and don't miss the new season of Bullshit! starting tomorrow night on Showtime!!! Set your dvr/tivo now!

scream Dracula scream,
Uncle Dave


---
March 14th, 2007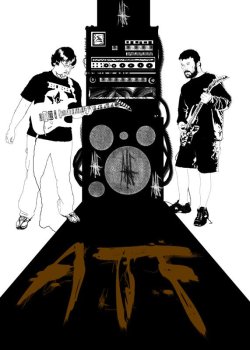 Hey boys and girls! It is that time of year again, time for an ATF update (what is it about the 14th?)! Over the last weekend as you were sitting around watching the clock on your pc in anticipation, hoping to see it change from 1:59 to 3:00 for our new DST, you may have felt a slight tingle in your balls. A tingle followed by one of those out-of-the-blue 8th grade English class erections that a midget could do fucking chinups on. Now, it may have been because your heart had finally settled down from seeing 300 earlier that day (Frank did it again). But, it just might have been because way off in the mystical land of Midland, TX, Uncle Dave had just written 3 new ATF songs! Boy, I shit out these new songs faster than you can say "cut-out-bin". I laughed my ass off (I didn't rofl though) as I scribbled down some vulgar and offensive lyrics, and your dear friend, the Rotten & Nasty One, laughed in approval; as did Nasty Fuck senior, he even threw in a little lyrical inspiration himself. I've already got drum tracks ready and I hope to get this shit recorded ASAP. Hopefully I'll hit Broke Dick Studios after downing some green beers this weekend.

So what is the plan for now? ATF is dustin' off our pricks and coming out of retirement. So lock your doors, alert the internet, and for christ's sake, somebody call this fucker...


more soon....
we've got the skills to make you cum hard,
Uncle Dave
Rotten Nasty Fuck


---
July 14th, 2006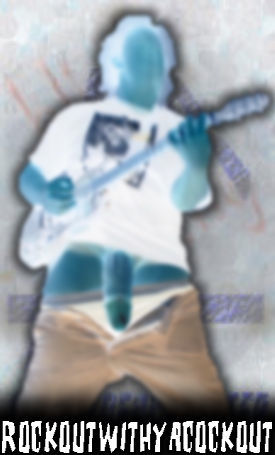 So earlier today I was elbow deep in Mohammed's asshole, and balls deep in Jesus' throat and then it hits me, Satan's cock! So I punched him in the head with my free hand and told that big red fuck that he better put that thing back in Jesus' asshole and stop swinging it around all willy-nilly. I tell you, imaginary friends: you can't live with em', can't live without em'. Well, I can and do live without em', that was directed at you dumb motherfuckers.

GODDAMN!! Two years and 3 months to the day since the last update. Well my buddy Dillan was nice enough to let me use some of his webspace so we have a new more permanent home. What can you expect? Jack shit motherfuck, ATF is on hiatus. However, Dillan has been writing and has some really cool shit on the way. Very different from the sonic diarrhea you're used to from ATF, but kick ass just the same. I hear Hi-C from the Dead McMahon's is even involved. Myself and RNF will most likely be lending some lyrics and/or vocal or two to the mix. I'll keep ya updated (once a year) as things develop!

zip it up, and zip it out
Uncle Dave (lil' Dave as I'm known on the streets)

---
April 14th, 2004
Hold on a minute, is it, yes I think it is! Another update! (and there was much rejoicing)
Put away your cocks, its not that much of an update. First off, site news. As a service to both of you who use a browser other than MSIE, I have removed the problem script that was making your visit unpleasant. Donations can be made in the form of rim jobs, sloppy bj's, and pecker rubs; payable to Uncle Dave. I am also searching for a new free guestbook provider, mine seems to have gone down the shitter. Fuck, I wish I could afford a decent host that allowed PHP!

In other news: Uncle Dave and Aunt Smunt are closing on our first home tomorrow. Lots of home improvement work ahead. It is a great house, but we want to make it even better and just make it more our own. I am also on the lookout for a new jobby-job, cuz frankly, I am about to go fucking crazy at the dump I currently bust my ass for.
The rest of the crew are doing well. Everyone seems pretty happy with most aspects of their life, other than their shitty fucking jobs of course.
Now on a more serious, and sad note; An old friend of mine was laid to rest today. He was born with a bad liver and had a transplant at a young age which gave him trouble most of his life. When he died, this liver was functioning perfectly, it seems the rest of his body had just fought too long, and too hard. We hadn't seen each other in a few years, but I have always thought of him as a good friend, and one hell of a fine human being (something that is usually pretty hard to come by). He was a great guy, and he will be missed by all that knew him.


R.I.P.
Bryan Holbrook
1977 ~ 2004



Well, that is all for today, you bastards keep checking back for that "always-just-around-the-corner" next album! Hahahaha, FUCK YOU TIM!


peas oooot,
Uncle Dave



---
November 3rd, 2003
Whoa! Another update! Well not really. Just was surfin' through my site here and noticed some pathetic misspellings, and code overlooks. Just got em' fixed up, and all that shit. Be sure to check out the band The Darkness. Not grindcore, but some kick ass rock n roll. Think Queen, Journey, Def Leppard, and Boston (maybe even a little AC/DC) thrown in a blender with Tenacious D attitude. Funny, and fucking rockin'. Well, till next time, listen to ATF, and sign the guestbook fucker!


---
I'm a damn college boy now, so I have even less time to work on shit, but being in that environment is really getting the juices flowing. SO, less time, more desire. That being the case I plan on getting a lot more involved in A.T.F. this year. Hell, I might even get that motherfucking next album out! Cross ya fingaz!

Thanks for stoppin' by,
Uncle Dave



be sure to link me at:
http://listen.to/ATF

if you would like to put one of my snazzy banners all up on ya site, get one of them here.